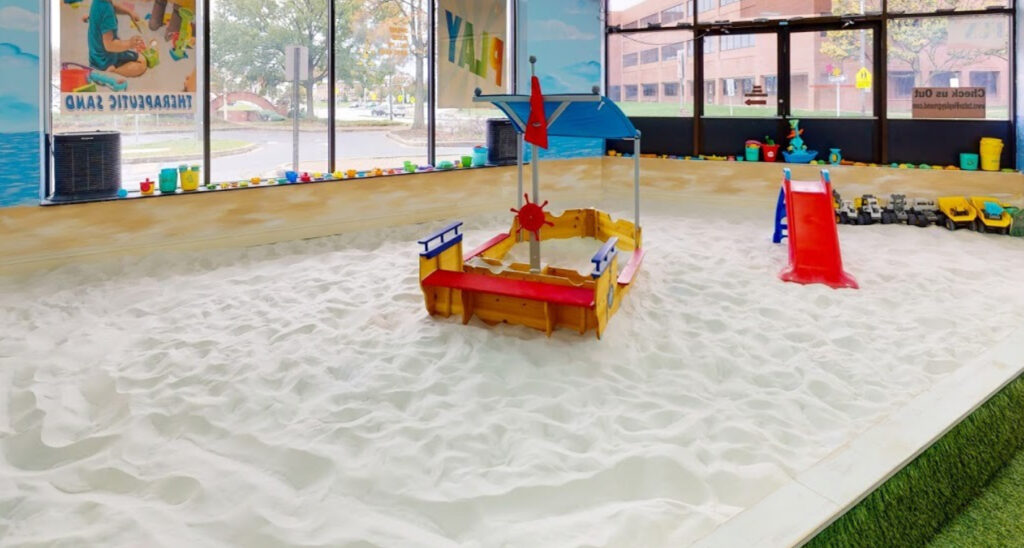 Totsville Indoor Playground features an indoor sandbox with the following dimensions: 20ft by 20ft. The sandbox is filled with silica-free sand.
At Totsville, our sand is held at the highest safety standard. Silica sand, the kind found at the beach, has been recently discovered to be a respiratory irritant as well as a carcinogen, not to mention highly unhygienic and unsanitary.
The sand added to Totsville's indoor sandbox is made from feldspar, which is safer alternative to regular sand. This special feldspar sand has the Children's Product Certificate (CPC) and has been tested for purity of the feldspar. The sandbox and playground area are specially designed for children, not for adult use. Totsville Indoor Playground's sandbox has a capacity for 20 children to play at one time. We do not exceed this count in order to provide all children sufficient space to enjoy their sand play without uncomfortable crowding.
Non-Toxic Sandtastik Play Sand.
100% Natural Product.
Contains No Free Microcrystaline Silica.
Environmentally Friendly.
Safe for Children of All Ages.
Approved by the Highest Rating Services as Safe.
Carries the Highest Approval Seal for Product Safety.
Never Exposed to Animals and Animal Cruelty Free
Cleaner than Park or Beach Sand
You can view Certification of Compliance for our Sand in store.
SIEVE
Sifting the sand is the best way to get any and all foreign objects and debris out.
PUR TAB / WATER MIX/ ESSENTIAL OILS
The Pur Tab kills 99.9% of germs and bacteria making this method the most effective. We use the Victory electrostatic sprayer gun to effectively distribute the solution. We use the Essential Oils like Citronella, Eucalyptus to keep bugs out.
RAKE
A fine-tooth rake is perfect for cleaning Play Sand and removing any larger debris. Moving all of the sand tone side of our sand environment, then rake it all back removing  any debris you collect along the way. After we're finished just smooth it back out.
Totsville Awesome Place for
Babies and Toddlers
410-553-4256